The Challenge
What challenges did you face prior to using Kotobee?
Working with other publishing platforms made me feel restricted and also unable to control my brand the way I envisioned.
What potential solutions did you explore which didn't work out? What was most important to you when evaluating your options?
I checked into a few other options for creating an app. One was much cheaper, and the other was much more expensive. I found Kotobee to be the perfect fit for my needs. Since there wasn't much to go on as far as indie authors with their own apps, the search was limited.
"Kotobee's support team was helpful and swift with answers. We experienced this firsthand experience when we scheduled a demo with them, and it played a role in the decision process."
The Solution
How did you hear about Kotobee?
I was just searching the internet and came across the site. It seemed like something that might work, so I scheduled a demo.
What have you found unique in Kotobee as a solution of choice?
Kotobee had the basic features that I needed and made the process a lot easier to create and maintain my app.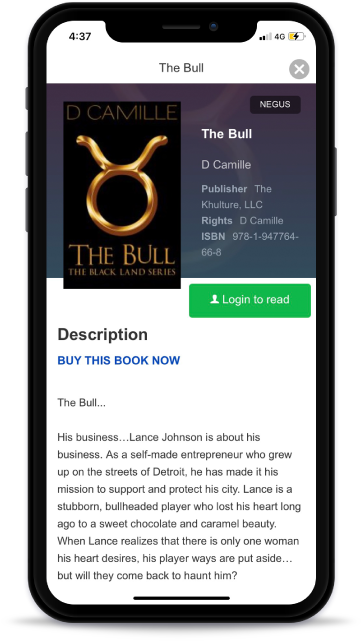 Has Kotobee's support team contributed to your selection criteria in any way?
Kotobee's support team has been amazing. As I am a writer and not tech savvy in any way when it comes to apps, they have been a lifesaver. The support team has gone above and beyond in assisting me.
How difficult was the onboarding process with Kotobee, transitioning from an older system? Did you adapt easily?
The onboarding was not that difficult creating a new system. If anything, dealing with the APP platforms was the most challenging.
Is there a particular aspect of Kotobee that you rely on the most?
The support team has been the go to for me. Whether creating my app or dealing with the App platforms, they have been the difference in this endeavor.
"I'm able to offer my readers a personalized experience that they won't get on any other platform."
The Results
What metrics do you use to measure the success of your decisions? Has Kotobee affected those in any way? Any numbers (sales volume, number of users, feedback, etc) here would be useful.
Feedback from my users, primarily. Overall, the feedback has been mostly positive. I'm sure as I learn the system more and Kotobee adds more features, my readers will adapt even better. Currently, I have over 600 users on my Kotobee App, which far exceeded our initial expectations, and sales have been amazing.
In what ways has your competitive advantage enhanced?
I'm now able to control my own brand. I've set myself apart as a trailblazer and trendsetter, and I'm able to offer my readers a personalized experience that they won't get on any other platform.
The Future
What are your writing plans for the future?
I plan to continue to write for the next few years and work on adapting my writing to film and/or television.